TENANTS – OUR GOAL – is to help you cut your monthly payments in half

Will you Qualify for our Lease-To-Own Program –  The sad truth is, most people do not qualify and do not get into our program.  Before you waste a lot of your time with us let's be clear on what works and what does not work.  Bad credit is not a big problem and can usually be fixed in 2 years or less, if you do not have high debt.  If you have debt of $10,000 or more you will not be accepted into our program because that usually takes more than 2 years to pay down so you can qualify for a loan.  If you fall into this high debt category you can stop now and look for some other company to work with because you will not be accepted into our program.  This is for homes with values of $100,000 or less.  If you are considering a home with a value of $100,000 or more the higher debt might be acceptable.  If you have been evicted recently or are currently being evicted or if you just filed bankruptcy, or are in the process of filing, or will be filing soon, that will not work for our program.  If you do not have any of the issues mentioned our program will be just the help you need to get your monthly payments cut in half, once purchased, and secure your financial future, fixed for 30 years, while the price of rent and everything else continues to increase every year.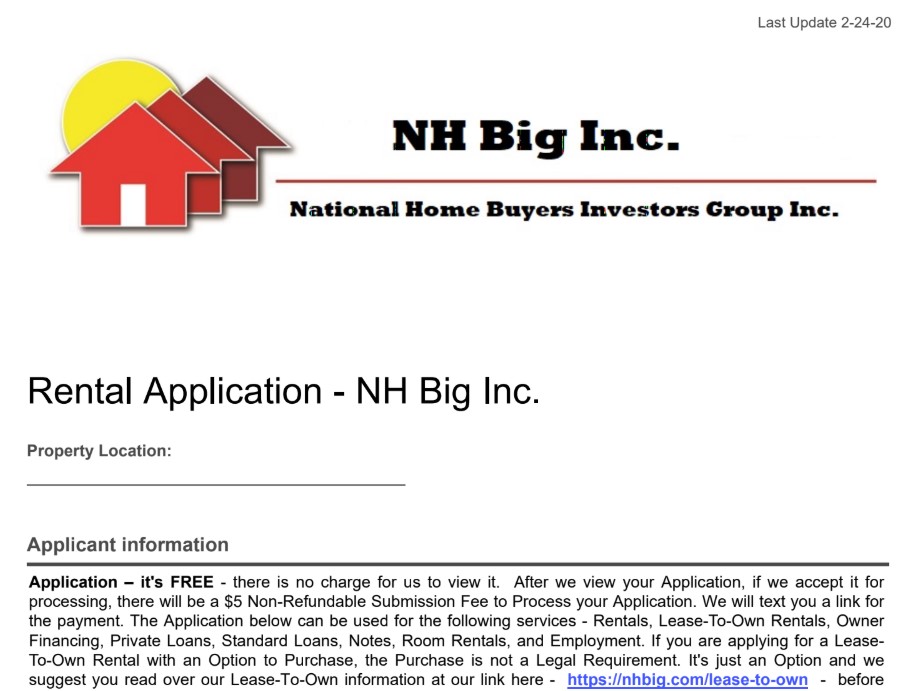 Rental Application Required – Download, fill out, return, to Dan Ringwald 805-242-3004 – text me with any questions first – I will text you my email address.
Soft Credit Check Required – Experian $15 paid by Tenants – must be used for all rentals.
Soft Credit Check vs Hard Credit Check – Our process starts with a soft Credit Check using the FREE Credit Monitoring site www.CreditKarma.com which you set up if you don't already have an account.  Sharing that information with us is optional and it's your choice, we do not demand or require it.
Our preferred Mortgage Brokers can use this information to see if you have the potential to have your credit fixed in 2 years or less, so you can qualify to purchase.  This is quick, short, easy, and will help if you plan on eventually purchasing a property.  It shows where your at, what you need to do, and monitors your progress.  That might be all that is needed without doing a hard credit check.  If you are not accepted at that point we are done and you will need to work with a different company than us.  If it appears you can be accepted then our Mortgage Brokers will do a hard Credit Check to confirm more information.  We only do Lease-To-Own Rentals at NH Big Inc. not standard Rentals.  If we find you do not have the potential to fix your credit in 2 years or less you will not be accepted for our Lease-To-Own program.  You can continue working with our Mortgage Brokers on your credit repairs, so you can eventually qualify to purchase.
Craigslist / Internet Scams – We understand the number one fear for everyone is being conned or scammed.  You can rest assured this is not one of those.  You always need to do your due diligence on people and companies before you start working with them.  When you work with us you will sign your Rental Lease Agreements, Lease-To-Own Agreements, and Purchase Agreements, at our local Attorney's Office  / Property Management Office /  Contractor Office / Escrow and Title Company – which will be just a few miles away from your Rental Property.
Bad Credit – No Problem –  We can help you Qualify to Purchase through our Lease-To-Own program in 2 years or less!  NH Big Inc. is no longer doing standard rentals.  We do Lease-To-Own rentals only.   The good news is we take partial payments on your Lease-To-Own down payment deposit which goes into a separate NH Big Inc. savings account at Wells Fargo Bank for each individual rental.   Partial Lease-To-Own payments mean you can move in for about the same amount as standard rental, 1st month's Rent and the Lease-To-Own deposit equal to or a little more than the 1st month's Rent.   Example – $800 Rent and $3,000 Lease-To-Own Deposit.  Say you put down $1,000 on the Lease-To-Own Deposit that leaves $2,000 divided by 10 months of payments is $200 per month plus $800 Rent is a total of $1,000 per month.  In some cases, depending on our Investors, we give you 2 years and take $100 from your $800 Rent which adds up to $2,000.  That make your Lease-To-Own about the same as a Standard Rental so if you decide not to purchase it about the same as walking away from any Standard Rental.  You always have the Option to Purchase but are not Required to Purchase.  Our Investors have NO Option Sell they are required Sell if you decide to Purchase.  As you can see the more you put down on the Lease-To-Own Deposit the less you pay per month on that.  Also the more you put down on the Lease-To-Own Deposit the more likely our Investor will select you as their new tenant.  Cutting your monthly payments in half is well worth the effort which is why they call homeownership the American Dream.  If you don't plan on staying there for 30 years you can have it be your rental and bring in extra income each month or just sell it for a profit.
Lease-To-Own Fee – Our LTO Fee for each rental is about 3% of the sales price which is close to what is needed by the some mortgage companies as the down payment for purchase.  Although our Investors help in the beginning during the rental process by having purchased the house, fixed it up, and pay for all expenses we don't recommend them to be the bank when you purchase.  Why?  Because they usually want 8 or 10% interest and that will not cut your monthly payments in half.  We get you qualified with standard lenders for lower rates like 4% so you actually see your monthly payment cut in half once you purchase.  That is a win-win for everyone!  Once you qualify we will move on to the title/escrow company and mortgage company and complete your purchase and you are then locked in and protected for the next 30 years to never have your payment go up.  During your Lease-To-Own our investors will still be paying the Taxes and Insurance.
Your Credit Score Isn't Affected by These 5 Factors – When it comes to qualifying for a low-interest loan repairing your credit is easier than most people think.  No Credit is easier than bad credit.  Very high debt and very little income might be the biggest problem.  Bankruptcy, Chapter 7, 11, 13 are changing but not impossible given enough time has passed. Our Investors are even willing give you $5,000 at the close of escrow to spend on whatever you want if you have paid rent on time, help with keeping the rental in good shape, and followed all Rental Lease and Lease-To-Own agreements.
How More Americans Are Getting a Perfect Credit Score – This is a very good article on how to increase your credit scores.  I found the best part was the fact that once you get your score to 760 you really don't need to go much higher because it really will not make much of a difference.  A few yeas ago my score was down to 612.  I got a private loan for $150,000 and used that to pay down $150,000 credit card debt, imagine that much credit card debt.  Within 90 days my credit score shot up to 800 because my private loan was not being reported to credit agencies.   That was a very good trick and of course we are still paying that down the debt as part of a first loan on a rental property.  Private loans at 5% can be a big saving compared to credit cards at 18% as seen in my Debt Management Video.  When working with companies to help build your credit I have found that non-profits are some of the best and here is an example –
National Foundation for Credit Counseling – Non-profits are some of the best companies to work with for credit repair and building.  Debt consolidation, restructuring, chapter 7, 11, 13 and bankruptcies are all to be avoided if possible.  If you have no assets, you really own nothing, and have high debt, like $50,000 or more, bankruptcy is probably the best thing to do for starting over. Stay Informed: The Dangers of Debt Management Review Sites
Owner Financing – Will someone else qualify you for a loan to purchase, even though you have bad credit, below 640 ?  The answer is YES, and it's usually called Owner Financing but you wouldn't want the loan because the rate will be too high, like 8 to 12%, and that will not cut your payments in half each month.  It might even raise your monthly payments.  Investors love to do Owner Financing because it makes more money for them.  Some Buyers love it because they get to own a home when no one else will qualify them.  Eventually they come to understand what it is really costing them.  This approach is too risky because you are locking into a 30 year loan at too high a price per month and possibly to high a price on purchase which means you can't even sell the home.  You would still need to get your credit up to 640 or better to refinance into a good loan that would truly cut your monthly payments in half and you will have the cost of insurance, taxes, and repairs.  NH Big Inc. refuses to do these type of loans with our Investors and our Tenants.  If we can't truly help our Tenants become financially successful we will not throw them to the sharks.  The truth is they will be better off renting until they fix their credit and get a good loan fixed for 30 years that actually cuts their monthly payments in half.
How Much can you Save – Whatever you are paying for Rent you could be paying half as much per month to Own. Given current interest rates, if you were paying $800 per month rent, you could be paying $400 per month to own, with little to no money down.  Figuring the savings $400 per month x 12 months = $4,800 per year.  When you factor in the tax write off on interest payments you might receive an additional $2,000 at the end of the year which makes it about $7,000 saved in your pocket each year.  That is about $700 per month savings depending on your current rental amount.  Taxes, Insurance, and repairs might eat up about $2,000 of that per year which still leaves you with $5,000 per year.  That is much better than renting and your home will appreciate in value over time.
www.CreditKarma.com or www.Credit.com – These are two very good and FREE places to start figuring out what's up with your Credit.  Go there and sign up for a free account.  You actually only need about a 620 credit score to qualify for a loan and maybe $3,000 down payment depending on the price of the home.  The important part is, after purchasing, and depending on the current interest rates, and your credit score and income to debt ratio, you just might cut your monthly payments in half compared to renting.
Are You Pre-Qualified or Pre-Approved? – There is a big difference.  This is a very detailed article for helping you understand what it takes to get a Good Loan that will cut your monthly payment in half. If you don't take time to read this and sign up for a free account you will not cut your monthly payment in half.  Yes, this effort takes time but would you really rather just go work longer and harder for more money to pay high rent just so you don't have to spend the time reading this information and freeing up some of your time while making an extra $7,000 per year or more.
Insurance – Some of our Tenants have requested to get a $100,000 Life Insurance Policy through one of our company contacts to have their rental property paid off free and clear if one couple passed away leaving about $40,000 extra after paying off the house.  This cost can be anywhere from $27 to $85 per month depending on the Tenant and their Insurance requests.
Rental Payments <- please click on this link for Rent Payments and read over the details to see how to make a Debit Card Payment or a Credit Card Payment.
Your Bank – they might have ways of doing electronic transfers and most are using Zelle or email or cell phone text payments with no fees.  We can provide you the information needed to work with your bank on these type of payment options.
Contact Dan Ringwald –  We will help you find a way that best works for you to reduce the fees on Rental Payments and we can answer questions on cutting your monthly payments in half or Life Insurance for paying off your rental in full with money left over as well.  My time for working with you is FREE and I don't care if you call me 5 times a week until we get there.  Your success is our success too.  As you can see we are success driven.  You have made a wise choice working with us.  We will make sure you succeed too, if you are willing to see the opportunity, and take action on it.